Reverse Osmosis (RO) systems are known for their ability to purify water and reduce 99% of contaminants. This RO series specializes in industrial-grade systems for brackish, surface, and municipal water treatment. With upgraded industrial quality materials and high capacity technology, these industrial BWRO systems are engineered to purify elevated levels of water for almost every industry. Our systems are uniquely designed and engineered in the United States. Our industrial BWRO systems have been strategically designed to be energy efficient and environmentally friendly while producing some of the most high-quality water.
Our largest tap and brackish water unit, the RO-500 Series, comes with a standard pre-treatment consisting of media pre-filters, chemical dosing, and antiscalant. These systems are often customized to fulfill the requirements of specific industrial applications. For this reason, we offer the option to customize the pre-treatment system for certain conditions. Our systems are considered to be one of the most compact industrial reverse osmosis systems in the market with features including state-of-the-art energy-saving membranes, robust construction, automatic design, environmentally conservative operations, and long-term reliability.
Economical and efficient, the RO-500 industrial equipment incorporates the latest in RO technology to remove dissolved minerals, particles, organics, solids, and other contaminants from the water. The systems use RO membranes as their core separation technology to reject the majority of these contaminants. ZamZam, Inc. uses the most reputable membrane manufacturers like Dow Filmtec, Hydranautics, and Toray to supply high-quality products.
At ZamZam, Inc. we offer the feature of a fully containerized/mobile RO system. The reverse osmosis system would be assembled in an ISO standard shipping container for a completely mobilized system. Containerized BWRO systems will intrinsically include added benefits like easy installation, transportable, compact footprint, and insulated weather protection.
This RO-500 series includes systems with capacities ranging from 200,000 to 900,000 GPD. This series can manage water with TDS up to 10,000 PPM.
Reverse osmosis systems are used to reject bacteria, sugars, proteins, particles, dyes, and other constituents that have a molecular weight of greater than 150-250 Daltons from the tap and brackish water. It is also capable of purifying water and remove salts and other impurities. Our largest tap and brackish water unit, the RO-500 series, comes standard with media pre-filters, chemical dosing, and antiscalant. These systems can be customized to fit individual customer and water application needs.
The process of an industrial BWRO system is the same as all other RO systems, the only difference is the elevated scale of water and equipment used in the system. This RO-500 series includes top-of-the-line high-quality equipment from the tanks to the pumps.
For reference on the process of reverse osmosis systems, heed the following:
As the feedwater enters the system, the first step of the pre-treatment is the pre-chlorination dosing which is injected into the feed stream. This feed stream is headed to a media filter which is the second component of the pre-treatment process to filter out contaminants larger than 10 microns. Next, the water is injected with antiscalant chemicals to reduce the hardness of the water and prevent the RO membranes from fouling. The pre-treated water is then pressurized through the RO membranes to produce ultimately purified water and a reject stream of concentrated contaminants. Generally, industrial applications do not require water to be disinfected. However, depending on the application, a disinfection method can be used by means of Post-Chlorination Dosing or a UV Sterilizer.
A diagram of RO system process is shown below.
Industrial Brackish Water Reverse Osmosis System Diagram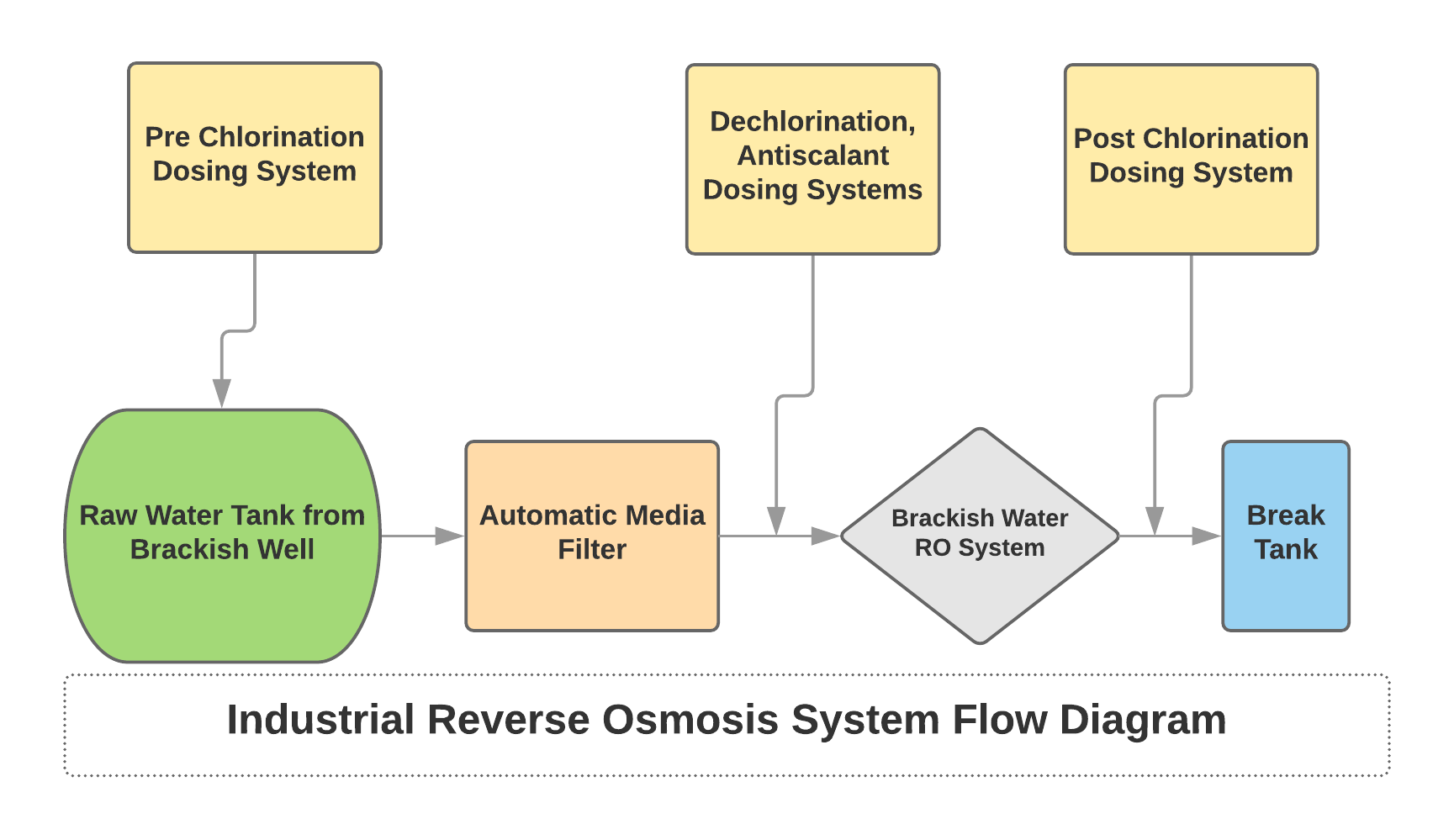 In order to choose the most appropriate RO system, the following information must be provided:
Flow rate (GPD, m3/day, etc.)
Feed water TDS and water analysis: this information is important to prevent membranes from fouling, as well as help us choose the correct pre-treatment.
Iron and manganese must be removed before the water enters the reverse osmosis unit
TSS must be removed before entering RO system
SDI must be less than 3
Water should be free from oil and grease
Chlorine must be removed
Available voltage, phase, and frequency (208, 460, 380, 415V)
Dimensions of projected area where Industrial RO System will be installed
Standard Features:

Available Options:

Status indicators
Motor starter
NEMA 12 enclosure
Low pressure switch
High pressure switch
Liquid filled pressure gauges
Permeate conductivity monitor
Permeate & concentrate flow meters
Powder coated carbon steel frame
8" TFC spiral wound membranes
Stainless steel multi-stage pump with TEFC motor
FRP membrane housing
5 micron cartridge prefilter
460V/3Ph/60Hz power supply
PLC based control panel
Programmable time delay and set points

Export crating
Feed / Permeate blending
Automatic hourly flush
Membrane cleaning skid
Feed water conductivity monitor
Remote monitor / control option
Post deionization polishers
Water softeners
Ozonation and UV sterilization systems
Media and Iron prefiltration systems
Chemical dosing systems
Water and hour meters
Feed ORP controller with sensor
Feed pH controller with sensor
Product tank level controller switch
220V/3Ph/60Hz power supply
380-415V/3Ph/50Hz power supply