ZamZam's commercial reverse osmosis system "RO-200 series" is a compact and energy-efficient commercial RO unit, designed ideally for tap, brackish and drinking water treatment applications. Our small commercial reverse osmosis equipment is capable of reaching incredibly high recovery rates.
As a global supplier, we offer a full line of pre-engineered and custom reverse osmosis systems for commercial use, ranging from 600 to 18,000 GPD. These commercial RO systems produce high-quality water at a very low cost, all of which are engineered using the most advanced technology for accurate and customized solutions.
Benefits of Our Commercial RO Systems
A commercial ro system will take care of removing unwanted dissolved solids from your tab, brackish or well water through the utilization of highly efficient reverse osmosis membranes. Less wastewater, low energy consumption, high flow rates and contaminant rejection at competitive prices makes our commercial ro system the most valuable in the market. These systems incorporate dependable components and an extremely sturdy construction, along with highly desirable features from years of experiences of producing high quality commercial reverse osmosis purifiers.
Additional perks provided by our commercial ro water system include:
Compact, Heavy Duty, Powder Coated Carbon Steel Frame
Membranes from most reputable brands
Long-lasting performance
Tried and tested (trouble-free operation)
Minimal membrane fouling

Cost-effective

Enhanced energy efficiency

Reduction of scaling deposits
Fresher, clearer improved tasting water
Commercial Reverse Osmosis Process:
Skid mounted commercial reverse osmosis purifiers are tasked with purifying water from water sources such as lakes, rivers and wells. A commercial RO system utilizes a high pressure pump that pressurizes brackish or saline water against the surface of a semi-permeable membrane containing small pores. Water molecules are only permitted to flow through the small pores while blocking impurities such as salt, particles, minerals, and other organics from passing through. These small pores have a strong capability of rejecting bacteria and disease-causing pathogens. At the end of this process, clean, purified water emerges on the lower-pressured side while salts, minerals, and other organics are sent into the brine stream then into a drain.
Custom & High Capacity Commercial Reverse Osmosis Filtration Systems:
Our commercial reverse osmosis units are manufactured to be with user-friendly, environmental friendly, long-term reliability, and robust construction in mind.
A commercial RO system can be customized based on individual design needs to include chemical dosing, cleaning skids, antiscalant, filters and more. Our commercial reverse osmosis machine can accommodate between 600 to 18,000 GPD, with feed water TDS of 1,000 to 5,000 ppm. These features have the capability of removing hardness, chlorine, odors, color, iron, and sulfur. Economical and efficient, RO-200 commercial reverse osmosis machines acquire the latest in reverse osmosis technology to remove dissolved salts, particles, organics, minerals, tannins and other contaminants from water with a molecular weight greater than 150-250 Dalton. At Pure Aqua, we use the most efficient, energy saving, high rejection membranes made by Dow Filmtec, Hydranautics, Toray.
Commercial Reverse Osmosis System Schematic Diagram: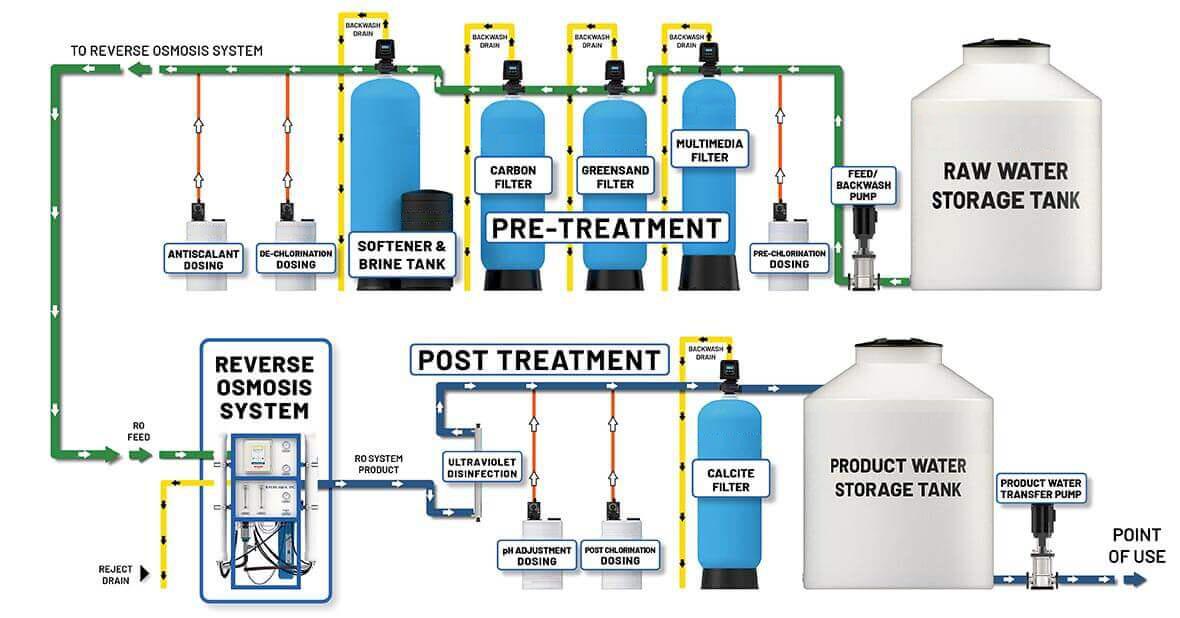 Commercial Reverse Osmosis System Buying Guide:
The following considerations should be made when choosing the right water treatment system:
Flow rate (GPD, m3/day, etc.)
Feed Water TDS.
Iron
Manganese
TSS
SDI< 3
Water must be free from oils and grease
Chlorine must be removed
Available Voltage, Phase, and Frequency
Installation Location & Footprint
Visit this page to learn more about who makes the reverse osmosis system
Commercial Reverse Osmosis System Cost:
A commercial reverse osmosis machine cost is largely dependent on feed water quality and the required product water quality.
The following list details many of the common pre and post treatent components employed with RO systems.
Prechlorination dosing
Media filter
Carbon filter
Water softener
Antiscalant dosing
NSF components
Advanced controller
Advanced instruments
Iron removal filter
High TDS application
Skid mounted system
Calcite filter
Blending systems
Three phase system
Variable frequency drive VFD
Standard Features:

Available Options:

2.5″/4″ TFC spiral wound membranes
Heavy duty high pressure tubing
Low pressure switch
Product and reject flow meters
Electric inlet solenoid valve
Corrosion resistant high pressure throttling valve
Pretreatment lockout
Factory tested
Powder coated carbon steel frame
Corrosion resistant high pressure pump
220V/1Ph/60Hz power supply
Pre/post-treatment and pump pressure gauges
Recycle valve (standard up to 4.5K GPD)
FRP/SS pressure vessel
Tagging and identification of instrumentation
Heavy duty 5 micron cartridge pre-filter

Automatic flush
Pre piped skid system
Blending: feed/product
Tank float switch
Recycle flow meter
Post DI polishers
380-415V/3Ph/50Hz power supply
220-240V/1Ph/50Hz power supply
220V or 460v 3Ph/60Hz power supply
Water softeners
Ozone water machine / UV sterilizers
Media filters
pH or ORP meter
High pressure switch
Export wood crating