MBR-C Process Description
MBR-C is a containerized MBR which utilizes hollow fiber (HF) ultrafiltration (UF) membranes with nominal pore size of 0.04 µm. In a typical MBR-C system, feed water passes through a drum screen to mitigate suspended solids and protect membranes' surface. Water is then transferred to a bioreactor where microorganisms decompose organic content to mineral constituents of CO2, H2O, and inorganic nitrogen products at ambient temperature. Thereafter, water overflows to membrane tank(s), where UF membranes achieve complete retention of bacterial flocs, suspended solids, small colloids, and viruses.
Submerged HF Membrane Technology
MBR-C utilizes submerged membrane module (SMM) products featuring the best-in-class thermally induced phase separation (TIPS) polyvinylidene difluoride (PVDF), innovative modules, and skid designs to provide the most compact, simple, and reliable solution. SMM products are typically implemented in MBR applications treating municipal and industrial wastewaters. They are designed to effectively meet the needs of customers designing a new facility or replacing existing skids of any other manufacturer.
Containerized Membrane Bioreactor (MBR-C) Process Flow Diagram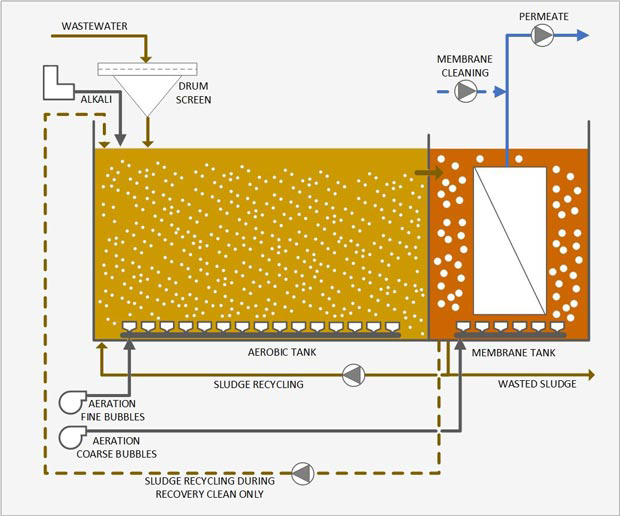 Advantages of MBR-C
MBR-C provides numerous advantages over all known biological treatment processes presently in use:
– Enhanced Membrane Technology
TIPS spinning method → high tensile strength and long lifetime
PVDF membrane material → higher chlorine tolerance compared to other membrane materials (e.g., PES)
High packing density → fewer skids, smaller footprint, and higher productivity
Patented air scouring technologies → low energy consumption
Extreme caustic and oxidant tolerance → suitable for challenging applications
Dense crystalline and monolithic structure → direct integrity testing capability
– Economy
Integration of bio-treatment and membrane filtration eliminates the need for sedimentation tank and allows for compact design and installation.
Minimal pumping requirements reduces equipment and operational costs.
Lower sludge production rate, due to higher sludge age (i.e., SRT), compared to conventional activated sludge processes results in savings on disposal expenses.
– Smaller Aeration Tank and Footprint
High mixed liquor suspended solids (MLSS) concentration and volumetric loading rate translate into compact footprint.
– Water of superior quality
Membranes are capable of retaining activated sludge at high MLSS concentrations, leading to more effective BOD and nitrogen removal.
UF membranes are capable of removing small colloids and viruses in addition to suspended solids and bacterial flocs.
– Ease of operation and maintenance
| | | |
| --- | --- | --- |
| Standard Features | Operating conditions | Available Options |
40' and 20' high cube (HC) containers depending on capacity
Insulated container walls
Zero water leakage
Enhanced container structure
Seaworthy container
Pre-treatment using drum screen (1.5 mm perforation)
Aeration tank with fine bubble diffusers for biomass growth
Submerged HF membrane modules equipped with coarse bubble diffusers
Built-in membrane cleaning and air scoring system

Electrical supply: 460V/3Ph/60Hz
Operating temperature range: 68-86°F (20-30°C)
Design temperature: 68°F (20°C)

Anoxic zone to achieve denitrification (NO3 removal)
Additional pre and/or post-treatment processes to meet effluent quality requirements
Standby pumps for redundancy
Remote monitoring
Feed water pump